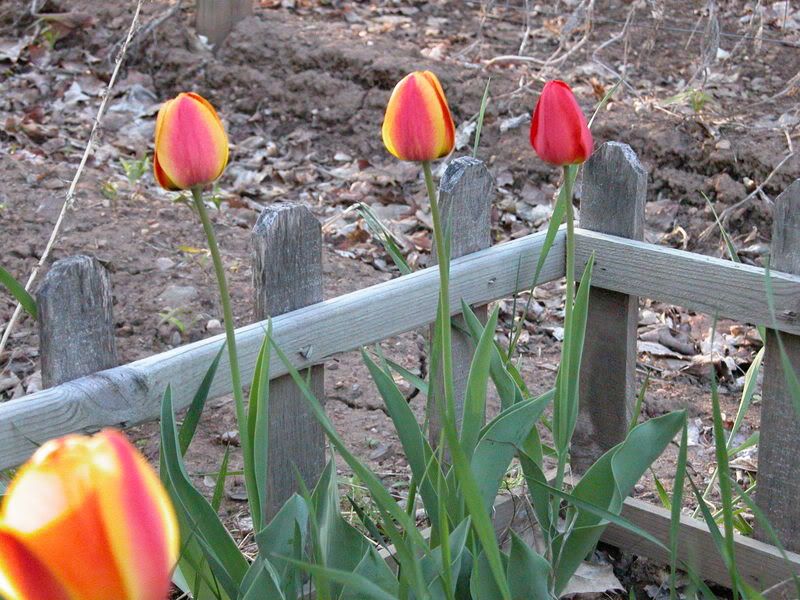 Tulips in the garden. I'll probably cut them for the dinner table today. Yes, they are double-fenced. One is to protect them from the deer, and the small one protects perennials from the tiller.
I hope everyone has a wonderful Mother's day. My family is still asleep. I mailed my Mother's day gifts to my mom and MIL Wednesday. My MIL opens immediately. My mom tries to wait until Sunday. But I called her yesterday and asked --- did you open your gift. She told me, "I was having a bad day, so it was open the gift or the bottle of wine… I chose your gift…" We laughed and talked for 30 minutes about the cookbook, napkins and stationary I sent her. I miss her.
We're making Mother's day books in Sunday school. I've got everything ready to go. Hopefully I'll be sewing this afternoon.
I love being a Mom. It's the hardest thing I've ever done. While I don't want any more children, I can say without hesitation I'd have mine all over again. I hope Parenting is an evolutionary experience in that my kids will be better parents and enjoy the good points and conquers the pitfalls that we've encountered along the road together. I hope they do it better, with more grace, and patience.