I left work an hour later than I had planned… it's been that way all week. By the time I hit the parking lot, I was contemplating how long I could hang in there like this. It's a choice.. But there are lots of new tasks and things will stream line eventually. But home can't suffer because of it. It defeats the purpose of working. I wonder if guys feel things like this.
I promised myself that I was buying the flowers for the horse buggy after work. So I went and bought my annual bottle of
Liquid Fence
, and impatients for the buggy.
Not much quilting taking place, But I got some needed quiet when I made it home as the guys worked late and Chelsey had dinner plans. Ransom and I relaxed on the porch swing. I looked out over the woods. We'd planted an apple tree 17 years ago. Don's wanted to cut it down the past 5 years as it's never produced an apple… well—I looked out and it's got Apple blossoms everywhere.
We're going to have apples.
I laughed and went and got the ladder and camera. As I traipsed through the woods, the trilliums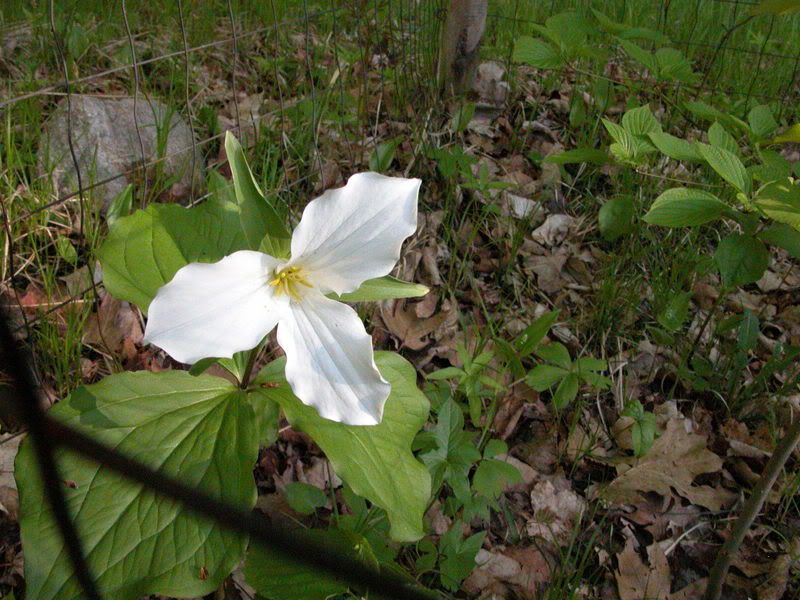 are everywhere and the wild violets (I think) are blooming.
I felt better and knew I could tackle another day tomorrow. I know the steps to take to lighten the load; I just have to do them.
Gratitudes:
Chelsey's improving grades
Eric's safety at work
The tail wagging of a 'sorta Labrador' dog