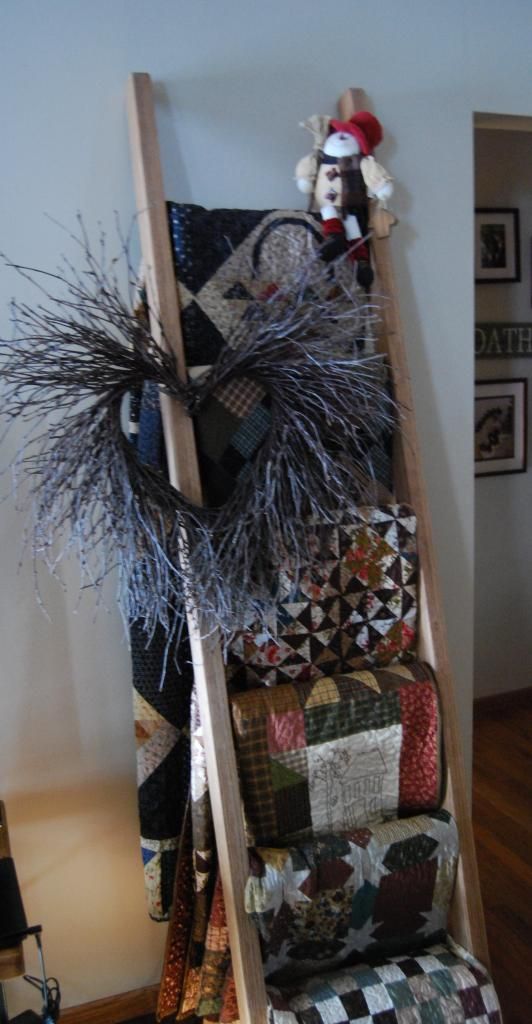 So three weeks earlier – Chelsey brought a friend from Germany home to visit, His name was George and he was studying for a master's degree in Management. So while there was a definite German dialect to his voice, he spoke English incredibly well. Chelsey told me he spoke 4 or 5 languages. Smart guy.
Don tells me this story after George went home that night. He'd been around the house about half of a day when he and Don decided to go downstairs and play a game of pool. Don is racking up the balls. George picks out a pool cue. They are making small talk--- the weather, football, how many days left in the semester. Then out of nowhere the following is spoken:
"You sure have a lot of blankets…"
Don grins ---, "No Shit..., not much chance of any of us getting cold around here…"
Don laughs, George smiles and the pool match continues.
Yes – George's "Blankets" were my quilts. I started looking around. Yep – they were everywhere. I started evaluating. Is it too much----are there too many??? At what point does creativity become obsession? Did my home look like a house of a crazy person—you know like the one in the movies about a woman who can stuff animals so consequently there's all these stuffed animals all over the place….
So fast forward to Thanksgiving weekend. The house is full of people. Eric and Carolyn come home. Chelsey brings friends. My take is ---the more the merrier.
Our famous family saying is " We don't go to sleep in our house, in the winter time we go into Cryostasis instead." Don like it cooler and we pile on the covers. My kids grew up piling on the quilts.
That first night I had all the air mattresses and beds layered with sheets and quilts. The next morning I asked how everyone slept…The general agreement was they were "chilly" to put it nicely. As a Mom--- I felt horrible. That second night, I put my 'blanket obsession' away and gratitude was replaced as the quilts were pulled from the ladder rungs, yanked from the quilt racks and unfolded from the quilt chests. Everyone slept warm that night. I'll never entertain the idea of having too many quilts round my northwoods home again
I guess I'm typing this because I want to remember this – and what it means to be a quilter.