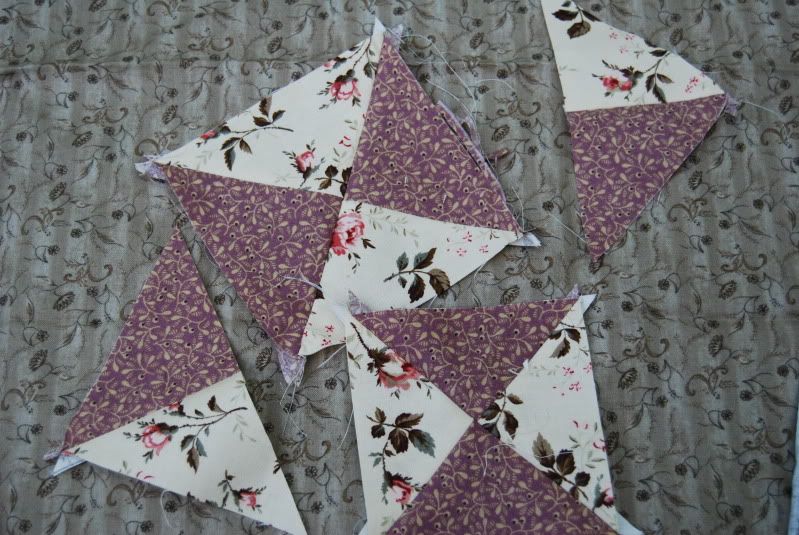 My Edyta Sitar Quilt blocks are bordered in 128 hourglass blocks. Precision in quilting is a real weakness of mine. I get the concepts, but crisp pressing to preserve the bias and matching points without stretching the fabric are pretty tough. So I was looking for an easier way to make hourglass blocks. No pressure, no timetable, no stress..... Sunday evening I pulled a couple of pieces from the scrap box and looked on Pinterest for a better way. After a couple attempts, I have found the way I want to make them. I want to test it out a few more times and I'll share it. May take a while--- but remember, right now--- I'm in no hurry......(Gosh, I love typing that....)
I wrote earlier that my Sister in law and Mother in law both came for a visit a week ago. They have been sending me photos for a couple of weeks. Their hometown now has a quilt shop---Good for them--even better for me. When family comes to visit they always bring surprises. Here's what they brought me. Bonnie Blue quilt fabric, a quilt book and jelly roll.
I spent a couple of evenings cleaning my sewing room before they got here--- when I probably should have been working on grad gifts---. I cleaned it becuase I wanted to explain quilting my style. What they best parts of quilting are to me....because now--- I just may have a pair of personal shoppers!!!! How I wished they quilted.....
On the gardening front--It was 81 degrees today-- I thinned out my hostas and pulled weeds from my flower beds. Still too early to plant, but I did take soil samples to the feed store. What I really know about gardening you could put in a thimble, so I decided I need some professional help. Too busy as a kid planning a "briefcase" future....Sometimes I really wish I was closer to my folks.