Tuesdays are usually pretty tough for me---but Today ranked pretty great as far as Tuesdays go. Above is a gift from Chelsey-- a jar opener that she said,'Just fit...'
Both my kids and Kaina and Krista are coming home for Easter. There will be Easter Baskets for everyone-- The rule is' as long as you believe --- The Easter Bunny comes..' My kids swear that even at 22 and 23 they still believe....
Hand stitching at night is my permission slip to watch television. I have finish the first quarter of blocks for my Home sweet Home Quilt. The BOM is from
Country Loft.
It may be similar to a quilt I made last year, but this way--- the kids won't fight over them one day;)
I must have hand sewing even though I still working away on Eric's quilt. Sometimes I just need to rest. Curling up on the couch with my sewing basket is my idea of resting. This is a pretty important picture because if you look closely you can see the green buds popping out.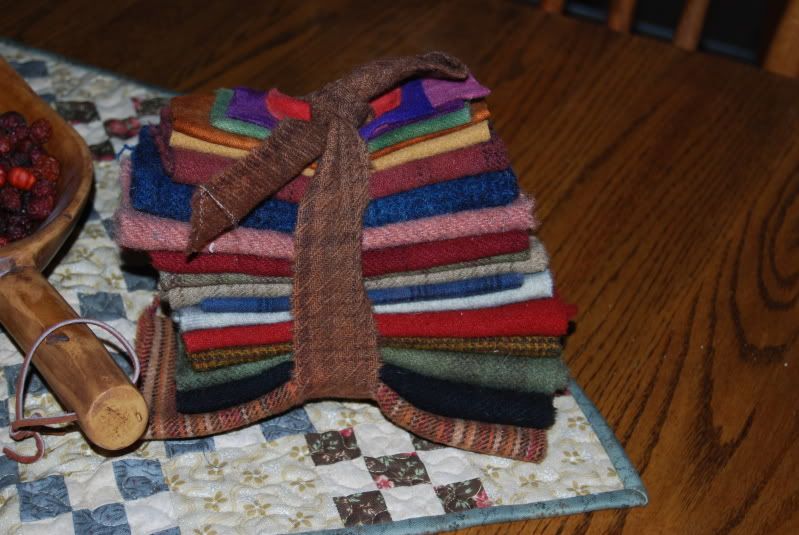 Carol @ Brown quilts parted with some of her wool-- I loved the colors so I used some of my birthday funds to send it up North from Florida. I never purchased much flannel, but I do love the wool. I've decided I have enough for it's own shelf-- maybe this weekend I'm going to get it set up.
The weather has been in the low 50's daily-- Amazing how warm it feels in March and April as compared to the chill of Fall in September... Looks like most of my perennials survived the winter. It was a pretty mild one. I've almost got all of the yard raked. The pups and I hit the woods daily. It won't be long until we'll have to stop because of woodticks.
Gratitudes:
Gunne Sax Night Gowns
Cinnamon Toast
A brand new Pumplkin Candle-- found on clearance- never goes out of season in my book.