How do you know you are a quilter? You find sign of fabric in everyday life. I received an early birthday day gift yesterday. My mother-in-law hooked me up. It was an after Christmas sale that I just couldn't really justify purchasing just because….
I wanted the boxes as much as the fabric. Plaid --- no labels, no logos. Inside the boxes were these mugs. Lang Christmas mugs and I now own a set of 8.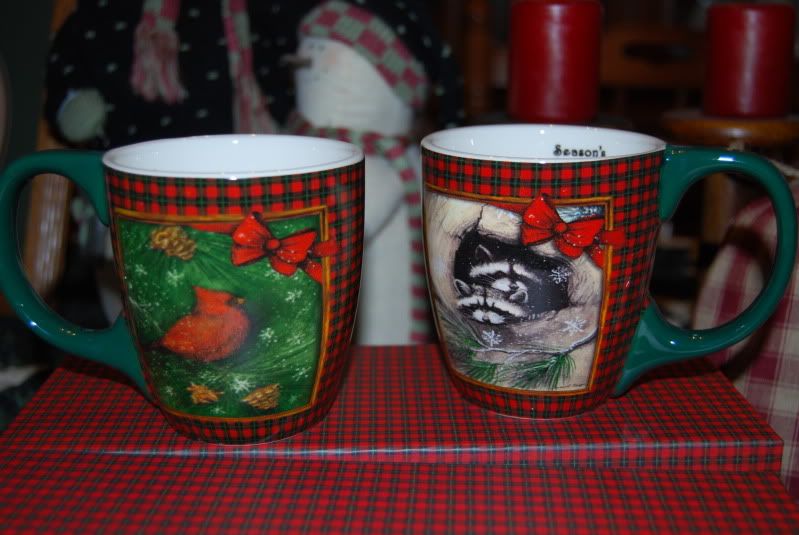 I told my husband that starting next November – He'll drink out of nothing else. I'm completed charmed with these mugs. Flash forward about ten years… I'll be the most awesome Gramma with these great mugs…. I remember special cups, special plates, and special bowls that I ate out of every time I went to my Grandparents as a kid. Good Memories.
The posts haven't been as frequent as I like---work is about work. I have had quilting time. Pictures will soon come—promise. Don's helped out a lot around the house, so I have time for the fun stuff.
Last weekend my sewing room went under construction. I have a cubby hole corner for my sewing area in our basement. It was carpeted and really nice – I'm not complaining, there's many out there that don't have a place to keep their sewing machine up all the time. Then there's a small room with a door next to it with a kitchen counter top and my ironing board. There's a table it in too. We call it the scrap book room because Chelsey has her bulletin board stuff and all her scrapbook stuff in it. I sew a seam in one room and cut out and iron it the other—in and out in and out. You get the idea. Well, this weekend Don cut a hole in the wall and opened it up and framed it in oak and added some electrical outlets and now I have—are you ready—my own studio…. Chelsey's craft stuff is still all over the walls, but it would break her heart --- and mine---to take it down. I figure when she graduates from college would be a good time. But I feel pretty special. I've been re-organizing fabric. I found Ziploc bags of orphan blocks that I'm reworking into a sewing machine cover. I feel just like a kid. Pictures will be taken this weekend.
Gratitudes:
Mother-in-laws that understand wants/needs
Cinnamon rolls
Quilt friends that email
An organized quilt cabinet