It's what got me through the winter. Back in November a friend and I scheduled a Punchneedle class at
Primitive Gatherings
in Menasha WI. It's something we'd always wanted to learn to do and I had never taken any kind of sewing class so it was an opportunity to try something new.
On the day of the class we left early and stopped at a couple of shops on the way down. I kept remembering to pace myself because our destination was ..Primitive Gatherings. We arrived about 3 pm. We had the shop to ourselves so my friend and I thrived on being the center of attention. When we had signed up for the class they had put hoops, needles, and threaders aside for us. For the class, we could pick any needle punch design they had in stock. There must have been 30 samples to pick from. I picked the Blue canning jar. Tired of snowmen and pumpkins by February, I knew it was the right choice.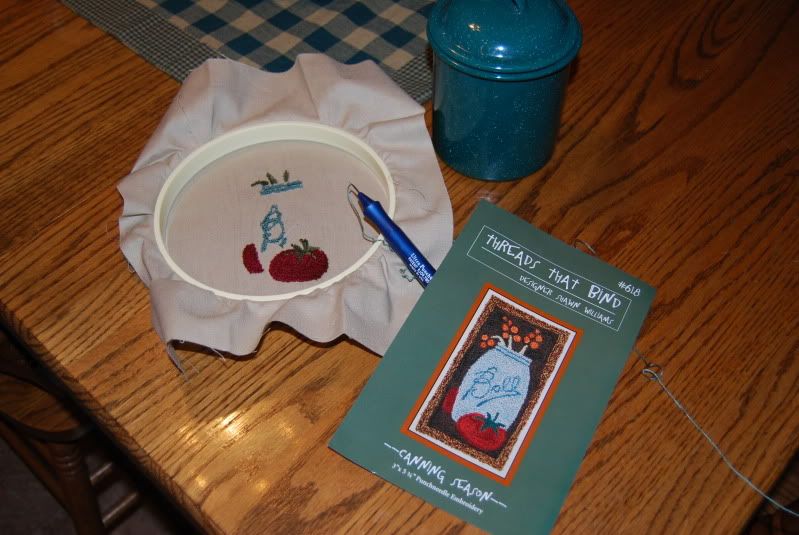 We literally knew NOTHING about needlepunch. The ladies talked to us about which patterns were easy and which were a little more challenging. There were three types of embroidery threads and we learned about each. Keep this in my this was like the "free' class before the class.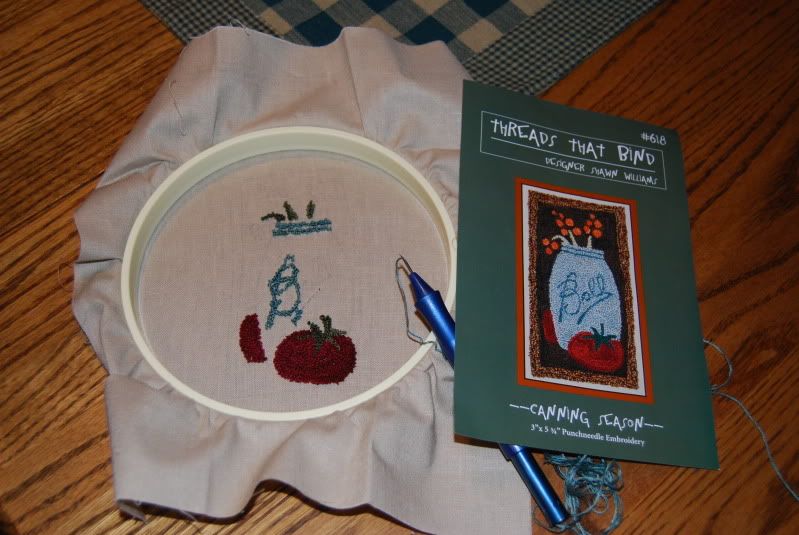 We scooted out for a quick bite of supper and returned ten minutes before the class started There were six other ladies in the class. Everyone had a different project, so it made things really interesting.
Lisa Bongean
, shop owner taught the class. She's nothing like I thought she would be. But the real deal is even better. An Artist is the first thing that comes to mind. I tried to be quiet and poised… but about thirty minutes into the class I broke out like a TV reporter on a request for the evening news. She told us how she started. We learned how important family was to her. She has two sons and a husband that believe in her business, along with a houseful of uncles, brothers, nieces, nephews, and cousins that all help. Perfection was never a word in her vocabulary. She even talked about how lack of perfection in Primitive crafts is what gives it its charm.
She told us of her travels and the seminars she does --- and all I kept thinking was…" Wow, and I'm getting all of this for $15.00…" We learned what is involved when she creates a pattern. She let us try different kinds of hoops with our projects. She talked to us about forgiving ourselves when you make a mistake. She even talked to us about different ways to use punchneedle projects.
I have to get busy on my project now.
When the class was over she even walked us to our vehicle. It was a chilly 19 degrees that evening and she said we should have let her known how far we were coming from…. We could have stay with her. Yep, she was inviting complete strangers to stay at her home, saying she has empty rooms with her sons grown up now.
We had traveled the farthest so we got first pick at a drawing of free punch needle patterns… I couldn't help myself… It's probably an addiction – I picked the crow on a pumpkin piece :)