Not posting as often as I should, Busy living I guess. It's like every quilt catalog and every quilt magazine I see something that Chelsey needs. It's fun. It's a chance at playing with fabrics and styles I don't normally get to sew with. I believe it's one of the reasons God gave me Chelsey.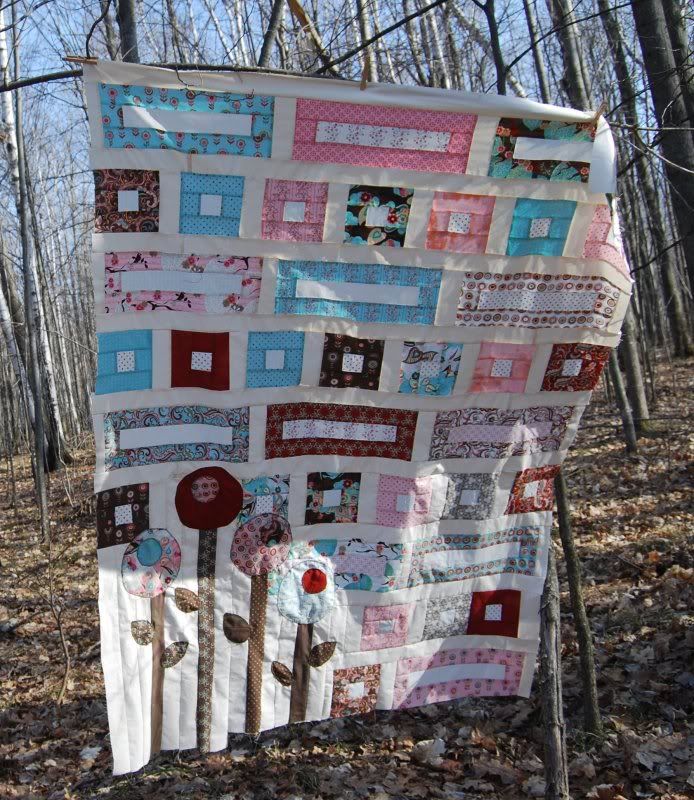 Here's the piece I just completed. I've never made anything with a jelly roll. I used a gift certificate and purchased the fabric line Blush on a jelly roll. I used muslin as the alternating fabric. I pieced the 'I'm Blushing' quilt from the Moda Bake Shop line of free patterns. The instructions and photos made it easy.
My needle turn applique skills are not the best in the world. I wanted this piece to withstand years of machine washings and along with tugs and hugs from popcorn, movies, and late night study sessions. I tried a new way of stitching the applique. I used dryer sheets as a backing and stitched and flipped the pieces. It made the applique a breeze.
Maybe it'll be on the quilting frame by this weekend.
OK---- when your son walks in wearing this:
What do you say??????? He got it at a relay for life event he worked at and raised $300.00 for the cause….I was just--- well a lot---surprised. But the shirt is eye catching and makes a point.. I think????
Kids…..
I cleaned up my garden for spring planting. I just let if fall by the wayside last fall, deeming that it would be someone else's garden this spring. It looks like it's still my garden. I really love that garden – weeds and all. It was a lot easier to rid the dead plants after a winter of rotting. It seemed like the Good Lord was just checking to see if I was willing to give it all up ---only to say, "Nahhhh, you don't have to…"
I've got tulips, chives, oregano, and lavender coming up….. just another sign life goes on……