OK – I've decided it's a lot of work taking care of yourself….while I haven't got it quite mastered, I'm improving at it all the time. It's catch up time. Three weeks ago.. Let's start.
I went to a quilt show in a neighboring town that Saturday. Fun--- I love admiring others work. There wasn't an ugly quilt there. While it was a small show, they even had a section for children making kids quilts. I always say that if we don't teach the next generation the art of quilting it will die out. The one thing I wished that they had done was to include something from the artist as to why each quilt was created. Quilting is kind of this "soulful" experience for me and as much as I love the piece itself I love knowing what inspired the quilter.
Two weekends ago I went with a friend down to the Green Bay-Appleton area with our own version of a shop hop. We hit 3 quilt shops and had a ball. She's a relatively new quilter—but very talented. She belongs to guilds and does a ton of charity work. I had been to the three quilt shops before. But it was amazing seeing things through her eyes. It's the first time I ever went fabric shopping with someone other than my Mom or Chelsey. I figured with Quilt Market going on shelves may be bare, but they weren't and it was so much fun. We went to
Primitive Gatherings
and I purchased this book.
I have all of Lisa Bongean's books. It even has recipes in it. My friend kind of shys away from books, but I assured her this was an afternoon date. I cup of coffee and I could get lost of hours studying her book. We Went to
Piece by Piece
in Appleton. With 20-foot ceilings they have quilts covering the walls. I'm going to attempt Lynda Hall's Gathering Basket Quilt, so I'm collecting navy and tan fat quarters. This was my purchase there.
We had lunch, hit a craft store and in Green Bay toured
Quilter's Connection
. I always talk about quilts and fabric talking to me. Living in the Northwoods, I have my collection of pumpkin and snowman quilts. I always feel that as short as spring and summer are, I don't have much to display. I saw this bundle of fabric with a pattern included.
It's muted pastels just said 'Spring Time' to me. If I make it and it seems to bright I can always tea dye it to fit a "cabin" spring . I'm working on Eric a scrappy quilt and scooped up red fat quarters whenever I saw them.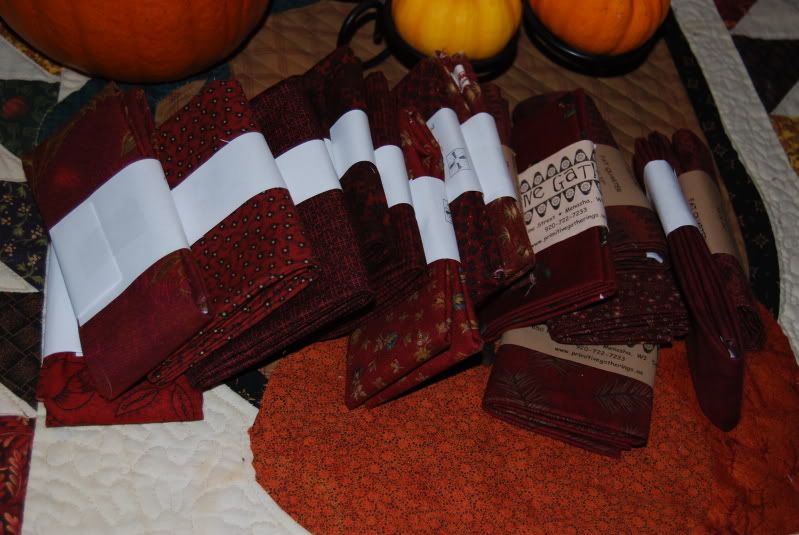 I'd been saving my Coke bottle money, rebate checks, any added chunk of change I could find, for a while. I think I'm set for quilting for the winter. I can't even pick a favorite store. My friend is not really a traditional quilter. Every store had a variety of styles and she found great ideas and purchases for the winter. We are already penciling in our spring-time trip…