It's Sunday evening. I finally got tolerable weather for my Neighborhood quilt. That's what I call this BOM quilt officially called the House Sampler from Cottage quilts. I wished over it for two years before signing up for the project.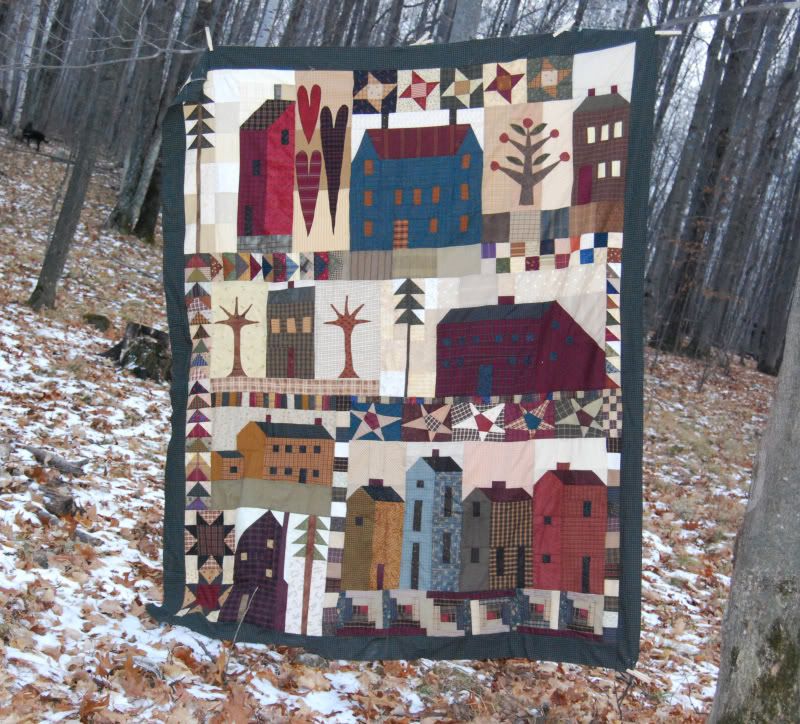 We went to Green Bay Christmas Shopping this weekend. I made considerable progress. It was chaotic in the stores. You'd never know there was economic woes across the nation. I did make more cautious buying decisions and avoided quilting stores. I guess I recognize my weaknesses.
The kids will be home Wednesday. Chelsey will not be home till Thursday morning as she will be working Wednesday until dark. I'd rather her not be on the road. They've already got 14 inches of snow on the ground. It's the responsible decision. I sat back Friday night and thought….my kids are coming home for a holiday—oh no—they might be turning into adults!?!? It's tough for a Mom.
It's tough on Ransom too. He's hanging tight with me… but I don't think I'm as much fun as the kids…
Gratitudes—
Pine cones
My favorite Coffee Mug
Don and Ransom's Company