Good Morning --- a friend emailed me that it had been two weeks since I last posted. Life has been so busy. I took a week off of work last week to go downstate with my daughter. She completed her term as FCCLA state president. I enjoyed the time I had with her. Lots of fanfare—she spoke several times. I'm glad I didn't miss it. They had competitions and workshops during the day. I got out of the hotel room every morning with a standing ritual. I headed to Barnes and Noble for my religious experience of coffee and reading. In my "dream world" it would be like that everyday. An hour and a half later, I come up for air and head to Michael's Craft store. I had a handful of 50% off coupons. I have a friend that had a birthday yesterday, so I shopped daily for her. The afternoons were spent quilting. Here is the completed birthday gift.
It's not an original pattern. I saw
Dawn
made one similar to it for a friend and I was charmed by it. I didn't have a pattern, but "winged it" and hand-quilted it for her. It's the first time I've done any wool appliqué. The wool was hand dyed. My friend always remembers Chelsey so I made her a gift bag with Chelsey's fabric and filled it with trinkets from Michael's--- A rubber stamp with the quote on the quilt, ribbon, charms, markers, and Cuttle kids dies;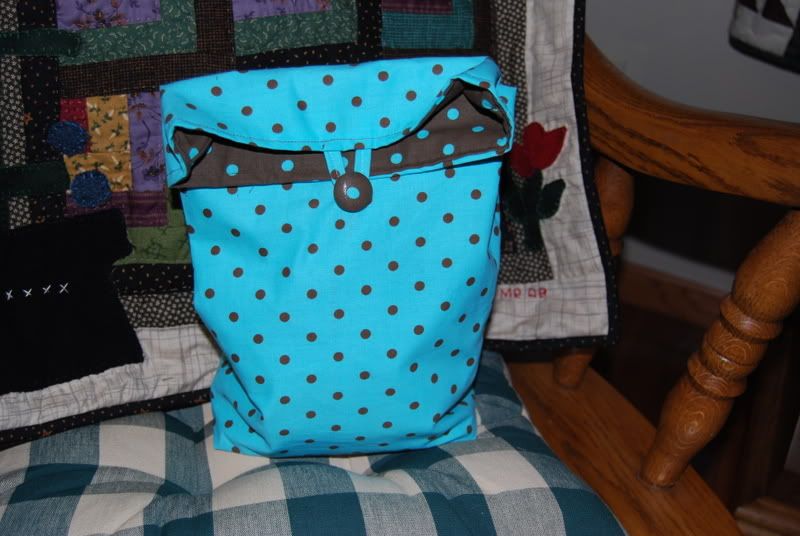 Oh and A dragon fly hole punch. We had lunch together… I hope her birthday was special.
Here are pictures from Chelsey's week.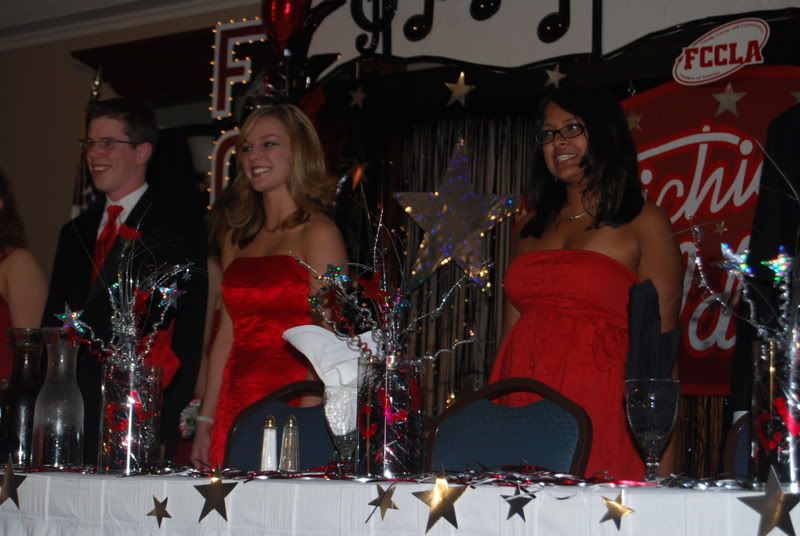 While I don't think the year was quite what she had planned--- she learned tons about life, both good and bad.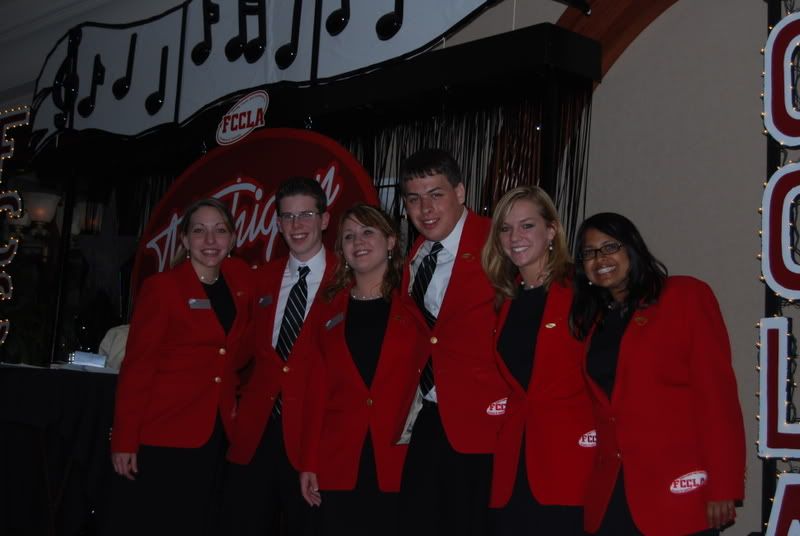 I can guarantee this will be the only post this week. Saturday night we are hosting a prom dinner for 16 kids--- Chelsey's senior Prom. I don't even remember what the Prom theme was, but I didn't like it, so the dinner has our own theme. I've always wanted to put together an evening with a crème and black decorations. So here's the sign for our Prom dinner.
Complete with invitations.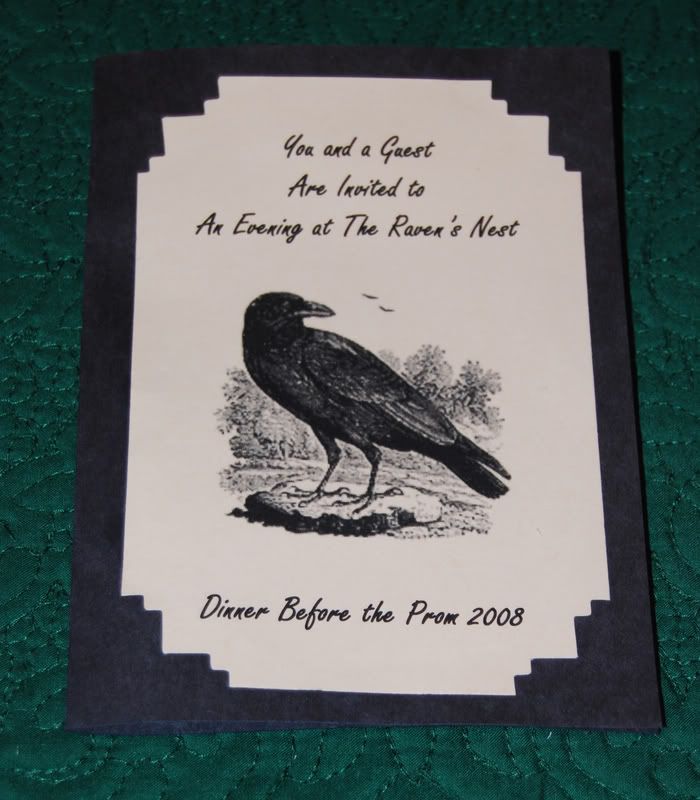 The furniture is leaving the living room and the tables are coming in with tablecloths and napkins made from these swatches. (Ok--- they will be completed by Saturday night).
We've got Birch Tree limbs that we are wrapping in Christmas twinkle lights along with plenty of old windows and grapevine wreaths to fill the corners of the room. In my constant effort to prove to my family and her friends that quilts are cool anywhere I enlisted the help of
Libby
who has loaned me a crème and black quilt for the occasion.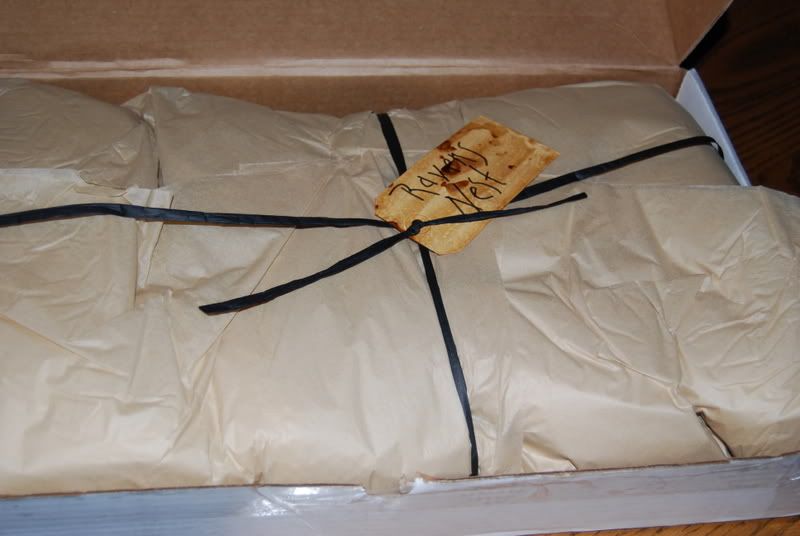 More pictures to come and Black Wooden crows will be sprinkled in.
Chelsey works tonight and Don's on a maintenance outage so I'm in charge of waiting for her to come home so I'm thinking those tablecloths will be completed tonight.
While life hasn't been filled with writing lately, it has been filled with friends, family, and quilts – and I'm grateful for all. Thanks for the emails checking in on me…
P.S. A couple has asked about FCCLA, FCCLA is Family Community Career Leaders of America. It's the old Future Homemakers of America. They do projects to promote leadership and healthy choices. Projects this year included:
Trick or treat food drive on Halloween
Dance Lessons for Underprivileged Little girls with donated tap shoes and the girls are even teaching the lessons and making the costumes. A local Dance teacher is helping.
Internet safety campaign
Healthy weight loss program for teenagers.
One group spent the night in boxes outside of walmart for donations and as an attention getter for the homeless.
that kind of thing.