I got home from work yesterday. I had parent teacher conferences for two hours after that. All good reports. I had asked co-workers, "Are you headed over to the school for the "annual" event?" A few said yes but the majority said their kid was doing fine they weren't going. My response was. If your kid is doing fine then go anyway. You've earned that "pat on the back" plus that teacher could most definitely use one too. Anyway, One down… I have one more set of conferences before Chels graduates.
Got home—another rumble with Chelsey--- we're having way too many of these. Don says we're too much alike…. So I headed off to church-- figured I needed it…
OK… This is the last pumpkin picture… but it's an important one. We only have three women working where I work. Last Friday, our accounting girl had to have some emergency surgery. Nothing life threatening, but still, she didn't have a lot of time to prepare. The office sent her flowers. She has family taking care of her kids. I wanted to do something—but what? I was out of town when we was in the hospital and now that she's home, I don't want to make her feel uncomfortable worrying about her house with a visit there. So I decided..... she needs a pumpkin. Everyone smiles when they see a pumpkin. I stopped by the grocery store on the way to church and picked up this pumpkin.
I just finished the fabric card… on the other side I wrote.." If an apple a day…makes you well… think of the AMAZING things a pumpkin must do!! Get well quick…" I attached it with fun ribbon (She's a ribbon freak) and included a magazine. And on my way to work I'm going to leave it on her front doorstep for her to find.
Pumpkins are cheap… they're only around for a short season….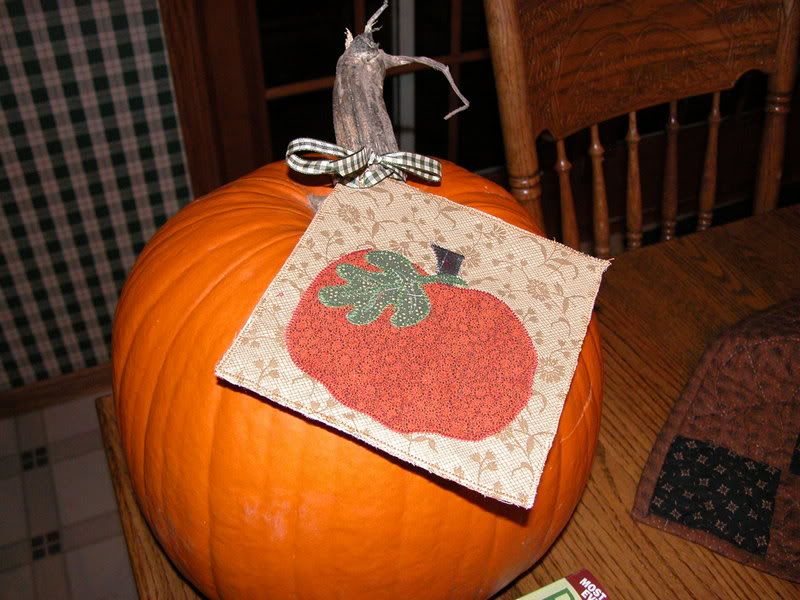 Pick up one to share with someone before the season's over--- Smiles---Money back guaranteed…
Gratitudes:
Don's patience with Mother/Daughter Squabbles
My favorite Coffee Mug
Warm sweaters on cool days