I'm so ready for spring…..But living in the U.P. I know I have six to eight weeks left despite what the Groundhog said about four weeks ago.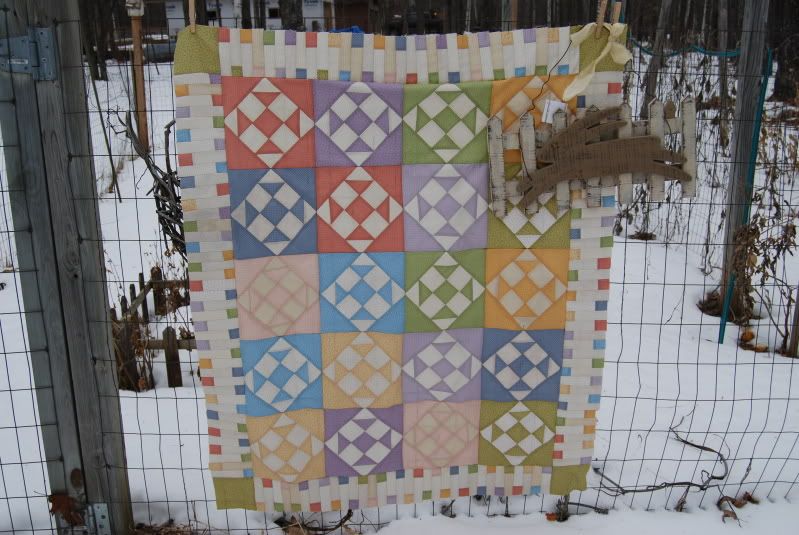 Here's my Applejack Quilt ready for quilting. I really like it, but for my home--- it's going to be lightly tea dyed in just a little while. Country Threads calls the border-- a 'lipstick' border. To me, I love it because it looks like a picket fence.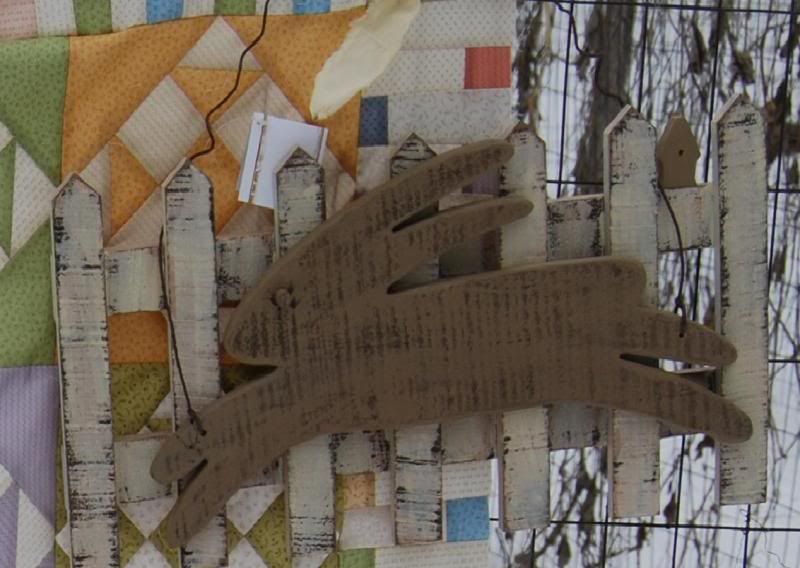 Chelsey and I picked up the spring time bunny sign yesterday in Green Bay. The most fun part of shopping with Chelsey yesterday is that we had so much fun and never entered a shopping mall. We stopped at stores tucked away that we normally over look. We were definitely looking for the deals and bargains.
The stars, our jobs, the dog kennel lined up and we went home for a week to see my folks. It was good to have my mom's cooking, and family all around. We even put a new wood floor down in My mother-in-law's home. The weather was 71 degrees when we landed, but when we travelled home we got caught in the Southern Ice storm. I think people in Louisiana have had more snow days than we have. It's good to be back home, but I wish we could visit more often.
I sewed up osnaburg fabric for dish towels for my sunday school kids to stamp on for Valentines Day. We had a lot of fun.
Valentine's Day was special. We went to a church Valentine's Day banquet and Don was held hostage as he had to watch Janette Oke's 'Love Comes Softly.' Just goes to show, it doesn't matter what you do if you're together.
My Candle on my table is filled with Red Hots – one of my favorite candies.
My February dishes are out.
I finished my last three blocks of My Garden. I just have the border left. I'm already planning my next project with friends.
I found these while I was away --- Wonky Hearts. To some they're cookie cutters. But the trained eye realizes they are quilting stencils, Sunday school play dough tools, Christmas ornament patterns, oh and ….. cookie cutters.
Life is good. Our company just landed another 8 million $$ contract. The kids are getting over bronchitis stuff. It's tough when they're away at school… at least on mommas.
We're expecting 3 to 5 inches of snow tonight…. Yep, spring is still a ways away.