Last Friday night we had 14 people over for a casual Thanksgiving dinner. I found these paper plates and Chelsey stamped up the napkin rings. The dinner just kept growing so I decided friendships meant more than China and "the more the Merrier". We had so much fun. On top of it, I worked until after 4 pm. with everyone coming over at 6.---- In other words--"I am woman, here me roar.." Truthfully Don and Chelsey rocked and we were a machine getting last minute details done. Completely fun.
I've been stitching away on my stockings. I'm realistic enough to know I won't feel like much sewing during the week so on weekends I get projects ready.
I made this stitchery a couple of years ago. I made a patchwork heart for the center piece. I took the patchwork off, because I now can needlepunch so last night I finished the heart. You'll get one more look at it-- hopefully it will be framed tonight.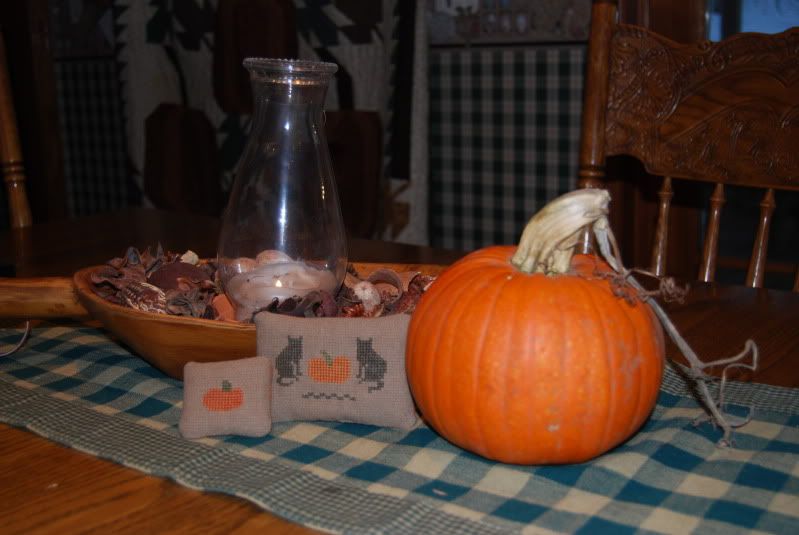 I wanted to document this pumpkin. About 10 days ago I finally cleaned the garden signs out of the garden. I noticed a pile of leaves with shadows of oranges. Brushing things away this pumpkin sat there waiting for me... I don't believe in coincidences it was definitely a good sign.
I'm sitting on the couch with my laptop -- listening to sounds around the house. Don and Eric are laughing downstairs, the pups are playing toys, the football team I picked just scored. I couldn't wipe the smile off my face if I tried. All four of us have jobs we love, a warm house, all the contentment in the world. Contentment - that's the word in our house. We've really been working at recognizing our blessings and being grateful. It's always fun reaching for the stars. But sometimes it's fun not feeling the pressure to have to. Oh sure-- I could make a list of everything I don't have that I'd like to...but I can always hold a matching list of all the things I do have.
A prayer request-- my daughter's best friend is stationed with her husband in South Korea. Communication is tough, and her safety is a concern. Remember them and our service people away in foreign places today.
Tomorrow - I'm off too-- a paid holiday- go figure - The pumpkins will be replaced with holly, maybe a little shopping, and the Christmas music will be dusted off. The last three months are positively my favorite times of the year.
Gratitudes:
Quilting Friends throughout the world
Cornbread Dressing
Louisiana Phone Calls