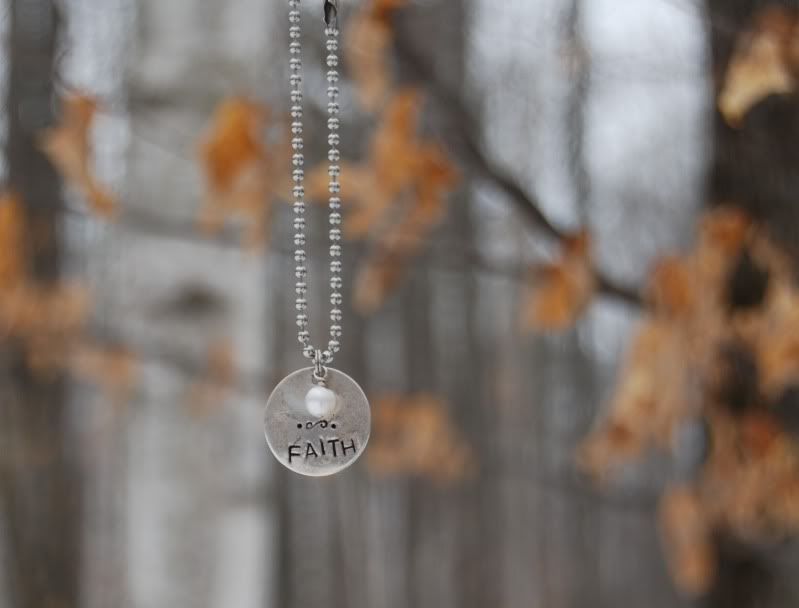 I needed a reminder a few months ago--- so I got this for myself. I'm not a big jewelry wearer. I think I have four pairs of earrings total. Every piece of jewelry I own means something. It's
F-A-I-T-H... as in...'Never lose it...'... I guess at the time I was thinking, " As long as it was around my neck-- I wouldn't..." Don still is not working, but I have optimism and hope...enough for both of us......
This has hung in my sewing room just like this for a while. It was a friendship gift from
Amy
. She even included scraps so I could make it bigger. Chelsey has decided that hopefully she will have her own place next semester and wants a brown couch for a pink and brown living room. This was the first thing I thought of. I guess there is always a reason for a quilt. So I took my scraps and added a couple of fat quarters and created
16 more blocks.


It's a nice size now. I found some fabric on clearance for backing--- maybe tomorrow I'll post it. I'm thinking a brown patchwork border and it will be ready for quilting. It looks like Chelsey.
I had a great weekend--- It just wasn't long enough.
Gratitudes:
Pink thread
Mackinac Bridge - Makes it easier to get to Eric
Never losing...Faith.