Lots of family time this weekend---Kind of helps heal the spirit. We went to Don's office picnic Saturday afternoon. It would have been much easier to just hide in the garden or sewing room, but I really need to think about starting to "get a life" when Chelsey leaves for school in a couple of weeks. Once we got to the picnic, we had a great time.
Sunday after church I finished my postcards and got them ready to mail.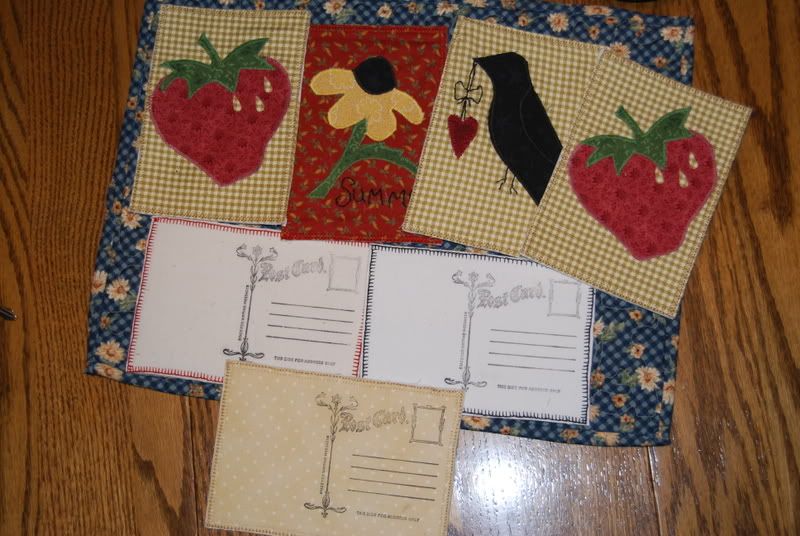 My favorite is the strawberry. Here's the link for the
postcard stamp
that I used on the back. If life is busy, these are quick projects that you can share with others I really enjoy them.
I even got Don to start marking our snowshoe trail for this winter. When I trekked back in January, I really wondered—what does this look like in the summer… in the fall, so we started marking a route and now we'll be able to appreciate the changes.
Thanks for the comments for my daughter and community. While I don't think there is ANYTHING good to come out of this…I hope that Chelsey doesn't become scared, or cynical, but does become not quite so trusting as she heads off to school. Small town comfort is just a myth….
What's on the docket this week? Definitely cleaning my sewing room and sewing machine… it's their turn…. And I want to take time out to appreciate little things like:
Eating cherry tomatoes right off the vine right in the middle of my garden.
Eating a home grown cucumber like a banana—just add salt…
Filling jelly jars with zinnias as more bloom every day….