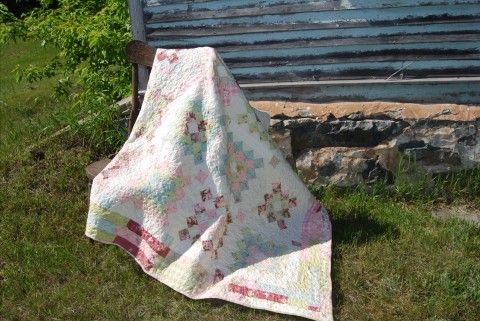 My Nephew is getting married soon. He's getting married
here
. I wanted him and his Fiance, Anne, to have a quilt. I sat down and started developing a game plan. Time was a key factor (Isn't it always in my life?!?!?) I had Don out of town for a week, so my porch became Quilt Command Central to get this project completed. No time to order fabric - In my true fashion of knowing well in advance, I finally commit with 10 days to complete the project. I pulled some Georgia Lou pieces from Acorn Quilt Company and Lecien Fabrics that Don had given me for Christmas in 2010. Why this fabric? -- I thought it looked Southern.
Making a quilt for someone is such a personal thing for me and at this point, realized how little I knew about Chris and Anne. I stalked her Pinterest account, and her Facebook account trying to discover patterns-- like and dislikes and looking for some sort of clue as to the kind of quilt they needed.
Because everyone needs a quilt.....
I knew her wedding plans and saw photos of an empty home she and Chris were purchasing.
I wanted this quilt to have meaning. Despite how much I don't know, I do know they're special people.
So a quilt name Dixie Gin was created. after the place where they are getting married.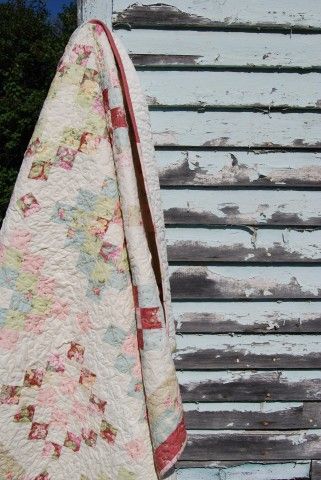 The quilt is 72 x 72. The crème is a Kona crème Solid. The Georgia Lou Fabric is filled with Sky Blues, Carnation Pinks, a Sage Green, and a neat Cranberry color. The blocks are album blocks with a scrappy stepping stone border. The binding is pieced as well--- out of necessity… I had no other big pieces.
The photos.
For years I had admired this old house on a cut-off road outside of Norway MI.. I knew it's where I wanted to take pictures of of the quilt. Upon further research, ( I was honestly going to ask permission to get on the property for a change) I discovered it is scheduled to be leveled any day. There was just something about the aqua paint peeling from the boards that said the building was tired and ready to go. It had weathered a million snow storms… it had endured season after season of hot and cold. There was just something those painted boards.
I labelled the quilt and included a wedding card for them....
Story to be continued........